Article
Global recognition for enhancing the quality of life in Medellín
Global recognition for enhancing the quality of life in Medellín
Top prize of 4th International Holcim Awards for Sustainable Construction conferred
The most significant international prize for sustainable design was presented to a team of young architects of Colectivo 720 from Cali (Colombia) for an urban transformation project in Medellín. At the ceremony for the Global Holcim Award Gold 2015, Aníbal Gaviria (Mayor of Medellín), Alejandro Aravena (internationally renowned architect from Chile) and representatives of the competition sponsor Holcim, praised the winning project for its approach of turning a de-commissioned water reservoir into civic space – enhancing the quality of life of many inhabitants.
Instead of demolishing the obsolete bulk water tanks, Colectivo 720 led by the architects Mario Camargo and Luis Tombé improve the urban fabric by converting the reservoirs into an open public park and venue for cultural and sporting activities. The urban project addresses socio-political issues by linking neighborhoods together – and also saves the cost of demolition and waste of resources. It is currently under construction and is expected to be handed-over to the public by the end of this year.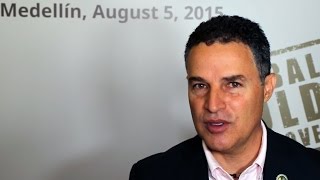 Mayor of Medellín, Aníbal Gaviria (pictured left), explained that Medellín has a strong commitment to sustainable development and innovation. "It is an honor for Medellín to receive an international prize for sustainability as well as a confirmation that our commitment can serve as a model of best practice for many other cities around the world", he said.
Transforming urban spaces at multiple scales
The celebrated project UVA Orfelinato is part of a series of similar interventions initiated and enabled by Empresas Públicas de Medellín (EPM) together with the city council. All UVA projects are run by Fundación EPM. By making the Awards prize-money of USD 200,000 available to Fundacíon EPM, the winning architects are providing a meaningful contribution towards a sustainable impact of their project.
At the Awards ceremony in Medellín, Alejandro Aravena (pictured left) said that the project was extremely valuable because it broke new ground and created new ways to enhance life in the city. "The project improves the quality of life through urban design and brings together infrastructure and public space. It provides amenities for underserved communities and is a powerful synthesis of responses to complex problems", he said. Aravena is a member of the Board of the Foundation that runs the Awards competition and was a member of its jury. The winning project was selected from more than 6,000 entries from 152 countries and already honored in the regional phase of the competition in 2014 as the best entry from Latin America.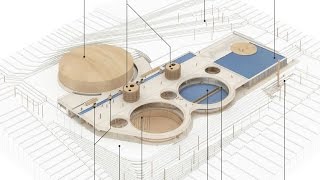 Giving Medellín back to its citizens
On behalf of the winning team of architects, Mario Camargo explained that opening the site up to the public created interconnectivity between neighborhoods. "Our project helps to give Medellín back to its citizens. Until now, the site was off limits; but soon everybody will be able to use the park", he said. Juan Calle, General Manager of Grupo EPM, explained that the Global Award winning project UVA Orfelinato was part of a range of community activities highlighting the value of water as an important resource of urban life.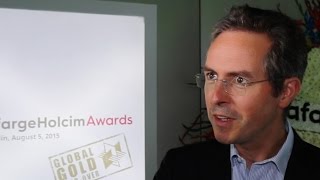 Holcim Executive Committee member for Latin America Pascal Casanova (pictured left) noted that the Awards were an integral part of the company's commitment to sustainable development. "We want to use our position as the world leader in the building materials industry to support sustainable construction, build awareness, and to advocate solutions that incorporate architectural excellence and enhanced quality of life", he said.
Jaime Hill, CEO of Holcim Colombia, a member of Holcim, commented on the outstanding rate of success of the nation's second largest city in the competition. "Medellín has received three main prizes to date in the Holcim Awards – showing the importance of approaches with a focus on ethical standards and social inclusion in creating sustainable cities", he said.
Last Updated: August 05, 2015