Article
Responding to climate change with creative urban infrastructure
Responding to climate change with creative urban infrastructure
Big U team led by BIG and One Architecture honored with Global Award for sustainable construction
The Dryline project addresses New York City's vulnerability to coastal flooding with a protective ribbon in Southern Manhattan – and is the winner of the global Bronze prize of the LafargeHolcim Awards, the most significant international competition for sustainable design and construction. Created by a consortium led by BIG - Bjarke Ingels Group and One Architecture, the 13km (8mi) long infrastructural barrier incorporates public space with the high-water barrier doubling as parks, seating, bicycle shelters and skateboard ramps.
At the ceremony in New York City, Daniel Zarrilli, Director at the Mayor's Office of Recovery and Resiliency, commended the project for taking and furthering an important City resiliency priority that will enable New York City to withstand and emerge stronger from the impacts of climate change.
Yolanda Kakabadse, President of WWF International and member of the Global Awards Jury 2015, praised the project's sensitive blend of hard flood protection infrastructure and solutions for community needs that foster local commercial, recreational, and cultural activities. She enthusiastically commended the project for making a political statement by means of an architectural and urban proposition that demonstrates how the future challenges of sustainability can be a mechanism for enhancing our cities. "The jury had a difficult task with many high quality submissions, but could clearly see The Dryline's potential as a model to be applied in susceptible regions around the globe, especially in regions with limited economic resources," she said.
Mohsen Mostafavi, Dean of the Harvard Graduate School of Design and Head of the Global Awards Jury 2015, commented on the scope of the project and its multifaceted problem-solving approach. "This is a bold proposition to tackle future challenges by means of a construction that offers a multiple value to society – turning a problem into an opportunity. The Dryline makes an outstanding contribution in terms of risk and resilience, and was selected out of more than 6,000 submissions from all continents to receive one of the top three global prizes", he said in a video message.
Architects Kai-Uwe Bergmann, Bjarke Ingels (pictured left) and Jeremy Siegel from BIG (Copenhagen/New York) together with Matthjis Bouw from One Architecture (Amsterdam) emphasized the collaborative team approach in establishing the project which included a close involvement of the communities to ensure benefits to local neighborhoods are maximized. The project authors stressed how the project would provide flood protection that anticipates the effects of sea level rise and the likelihood of more intense storm activity. The project also takes the opportunity to enhance social infrastructure. "This project is about resiliency – it is about clever social solutions for generations to come," Bjarke Ingels explained.
Daniel Zarrilli, Director of the New York City Mayor's Office of Recovery and Resiliency, highlighted the importance of the project in building social and infrastructural resilience. "New York City has seen the devastation caused by Sandy. We are firmly committed to addressing these threats, strengthening our neighborhoods, and building a more tenacious New York," he said.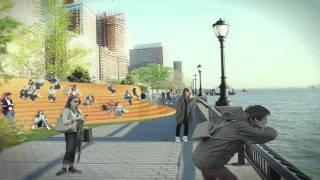 A protective ribbon to reclaim the waterfront
After Superstorm Sandy in 2012, New York City proposed a series of investments in Southern Manhattan, described as integrated flood protection, that would reduce the risk of flooding and integrate into the neighborhood fabric. In collaboration with the City, a consortium led by BIG – Bjarke Ingels Group developed The Big U as a protective system around the low-lying topography of Manhattan, from West 57th Street, down to The Battery, and up to East 42nd Street. The proposal was conceived of as a continuous line of protection, broken up into three compartments, with each compartment shaped by the communities and stakeholders it was intended to protect.
The project under the original title BIG U (East River Park) was one of six design proposals to address vulnerabilities exposed by Hurricane Sandy that was selected by the US Department of Housing & Urban Development (HUD) Rebuild by Design competition in 2014. Of the USD 920 million HUD allocated to New York, New Jersey, and New York City to begin implementation of the winning projects, USD 335 million was awarded to the City of New York for the realization of one of the three compartments described in the BIG U proposal – the East Side Coastal Resiliency (ESCR) Project – from East 23rd Street to Montgomery Street.
The ESCR Project is being refined as a standalone compartment to mitigate future climate change and flood risks on Manhattan's East Side. The solution includes a mixture of elements, which may include concrete "bench" water barriers that also serve as playgrounds, bike shelters and planters; along with berms that also function as green areas and attenuate traffic noise or transform bleak zones beneath elevated roadways into public pavilions with a dual function of flood containment. When completed, it will benefit thousands of public housing and other residents of a particularly vulnerable part of Manhattan, and will demonstrate a new model for integrating coastal protection into neighborhoods, consistent with the City's resiliency vision.
Commitment to create sustainability beyond the construction industry
Alain Bourguignon, Executive Committee member of LafargeHolcim responsible for North America, noted that the Awards were an integral part of the company's commitment to sustainable development. "LafargeHolcim wants to remain the most CO2 efficient international cement producer. Furthermore, we want to leverage our position as the world leader in the building materials industry to support sustainable construction beyond our production plants and distribution chains. Through the international Awards for Sustainable Construction we aim to advocate solutions that incorporate architectural excellence and enhanced quality of life", he said.
Holcim and Lafarge joined forces in July 2015 to become the new global leader in the building materials industry. With a commitment to drive sustainable solutions for better building and infrastructure and to contribute to a higher quality of life, the Group is best positioned to meet the challenges of increasing urbanization. The activities of the Holcim Foundation for Sustainable Construction – known since 2003 for its international Awards competitions, academic Forums, online information hub and an array of publications – continue under the name LafargeHolcim Foundation for Sustainable Construction.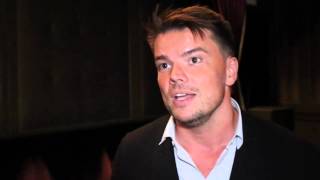 Global Awards for projects in Colombia and Sri Lanka
The LafargeHolcim Awards is an international competition that recognizes innovative projects and future-oriented concepts on regional and global levels. A total of USD 2 million in prize money is awarded in each three-year cycle. A project for a public park in Medellín, Colombia that creates urban spaces around a series of water tanks to form a "socio-technical" landscape won the Gold prize; and Silver was awarded to a community library project in the rural town of Ambepussa that recycles building materials and aims to reintegrate soldiers into post-war Sri Lankan society. The 5th cycle of regional and global Awards competition will open for submissions in the second half of 2016.
Last Updated: September 24, 2015