Article
Community empowerment central to sustainable design
Community empowerment central to sustainable design
Young architects inspired by social engagement projects and encouraged to enter the LafargeHolcim Awards competition
LafargeHolcim Awards winners Joana Dabaj and Riccardo Luca Conti from CatalyticAction highlighted the importance of ethical standards and social inclusion at the Strelka "Future Architect" Conference in Moscow, Russia. The winners of the LafargeHolcim Awards Bronze 2017 for Middle East Africa explained how their work not only addressed sustainable design from the perspective of building materials – but also created opportunities to empower local communities.
Under the theme, "The architecture of complicity: how to work in conditions of the global migration crisis", the duo used examples to show how a focus on social engagement improved the impact of their projects. They received a LafargeHolcim Awards Bronze for their project Pavilion Re-claimed in Lebanon that re-used the building materials sourced from a temporary pavilion by "Save the Children" in Milan to construct a school for Syrian refugees located at El Marj, Lebanon. In addition to repurposing a new life for the building materials, the team also utilized local materials including agricultural bags for lining walls and adapted wool for use as insulation by processing the fibers to prevent degradation by insects. The refugee population were proactively involved through community engagement in the project development and were also trained in building processes.
Joana Dabaj explained that sustainable design was an important cornerstone for CatalyticAction. "Architecture is not just about building, but also about adapting processes and seizing opportunities for community empowerment," she said.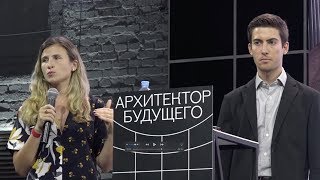 Endorsing the LafargeHolcim Awards
Joana Dabaj encouraged the conference attendees to participate in the LafargeHolcim Awards competition. "It meant a lot to us as a young practice to receive such a prestigious acknowledgement – there are many benefits to being part of the LafargeHolcim Awards," she said.
Joana Dabaj will be a member of the LafargeHolcim Awards 2020 jury for Middle East Africa. The Awards competition is open for entries until February 25, 2020 and recognizes projects and concepts from architecture, engineering, urban planning, materials science, construction technology, and related fields. A comprehensive "Step-by-step" guide explains the evaluation criteria and illustrates how to enter the competition at www.lafargeholcim-awards.org
Joana Dabaj and Riccardo Luca Conti appeared at the "Future Architect" Conference courtesy of LafargeHolcim Russia. Strelka conference "Future Architect" is a series of lectures, discussions and workshops on architectural trends and challenges that young architects are facing today. Founded in 2009, the Strelka Institute for Media, Architecture and Design is a non-profit international educational project, based in Moscow.
Last Updated: September 12, 2019