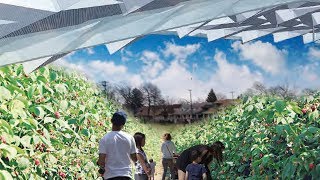 Grassroots Microgrid: Gold 2017 North America
Community-driven neighborhood planning, Detroit, USA - The design proposal for a neighborhood in Detroit repositions infrastructure as a civic project, under the name of The Seebaldt Pilot (TSP). Building on longterm community engagement, the large group of collaborators proposes a pilot project for local energy and food production, water and waste management, and community empowerment.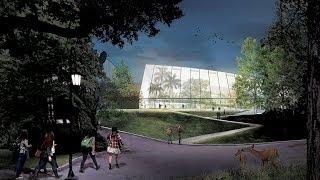 Global Flora: Bronze 2017 North America
Net-zero greenhouse for Wellesley College, Wellesley, MA, USA - This project reimagines the greenhouse as a locally-sourced, low-energy building linking Wellesley College to the local community. It is conceived as an educational link between the institution and the community. This project reimagines the greenhouse – typically an energy and water-intensive program – as a net zero energy building.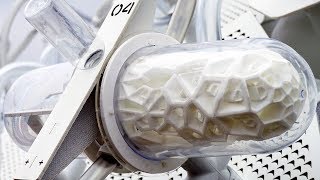 Cricket Shelter: Acknowledgement 2017 North America
Modular edible insect farm, New York City, USA - This pavilion is a demonstration of an urban farming system that minimizes the ecological footprint of protein- rich food production. Animal meat production is extremely resource intensive. This project proposes an alternative that emits just 1 % of the greenhouse gas emissions and requires 0.001 % of the land to produce the same amount of protein annually when compared to beef production.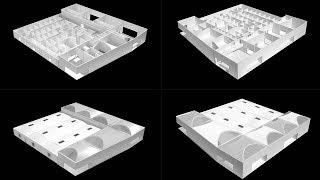 Elemental Construction: Acknowledgement 2017 North America
UCLA Warner Graduate Art Studio renovation and addition, Culver City, CA, USA - The project's basic objectives are twofold: to rehabilitate existing urban and architectural elements – through adaptive reuse and complementary additions; and to frame a discourse on the role of mundane construction as the generator of space and form.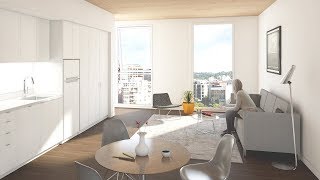 Ingrained Framework: Acknowledgement 2017 North America
All-timber high-rise load-bearing structure, Portland, OR, USA - The design of "Ingrained Framework" proposes a 12-level building using wood as the principal construction material. Intended for realization in the city of Portland, Oregon, the design recognizes timber as an important local resource, acknowledging the region's longstanding tradition in wood construction.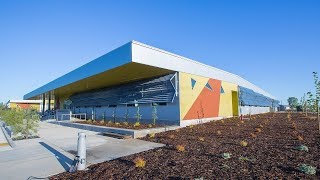 Zero net energy school building: Building Better Recognition 2017 North America
The LafargeHolcim Building Better Recognition in North America went to Gloria Lee and Nathan Swift of SwiftLeeOffice in Pasadena, CA, USA. The two architects designed a new school building prototype for the Los Angeles Unified School District to replace several inadequate temporary structures.