Forum
Turning void into infrastructure
Turning void into infrastructure
Sao Paulo, Brazil
First prize in the Student Poster Competition went to Eduardo Pizarro, a student from the University of São Paulo (USP, Brazil). His project develops and activates open spaces and interstitial spaces between buildings in the second-largest favela of São Paulo, "Paraisópolis."
With small interventions adapted to the local conditions, the plan provides e.g. planted gardens and shaded places. The method behind the project is empirical and based on field investigations, analytical work, and design exercises – this approach was intended to lead to the most sustainable solutions possible.
Finding breathing space for the community
University of São Paulo doctoral student Eduardo Pizarro sees the potential of small pockets within the favela of Paraisópolis to deliver much-needed infrastructure and community spaces. As winner of the LafargeHolcim Forum Student Poster Competition for 2016, his project "Turning Voids into Infrastructure" lives up to the "target issues" of sustainable construction and designs micro interventions that uses the potential of these small spaces between and within buildings for the residents of São Paulo's second-largest favela.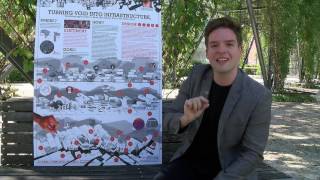 The small interventions adapted to local conditions include planted gardens, shading, and community spaces that allow natural ventilation, day lighting and shared urban pathways. Building façades both improve environmental quality for residents, but also stimulate urban users from the outside of the building (click on image, left to watch short video).