Forum
6th Forum
6th Forum – "Re-materializing Construction"
About The Event
Embedding sustainability before the first sketch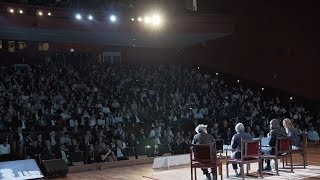 The 6th International Holcim Forum for Sustainable Construction featured panels moderated by Maria Atkinson, Founding CEO of the Green Building Council of Australia, and Alejandro Aravena, Partner Architect and Executive Director of Elemental, Chile, both members of the Board of the LafargeHolcim Foundation. Keynote speakers illustrated the importance of considering sustainability even before the design process commences and included Lord Norman Foster, Chairman & Founder, Foster + Partners Architectural Design & Engineering, United Kingdom, Christine Binswanger, Senior Partner, Herzog & de Meuron Architekten, Switzerland, Anne Lacaton, Principal, Lacaton & Vassal Architectes, France, Francis Kéré, Principal, Kéré Architecture, Burkina Faso/Germany, Laila Iskandar, former Minister of Urban Renewal & Informal Settlements, Egypt, and Mitchell Joachim, Co-Founder, Terreform ONE, USA.
"Being less bad is simply not good enough"
Michael Braungart (pictured left, Germany), Cradle-to-Cradle Chair at Erasmus University Rotterdam, provided a note of optimism, asserting the need to depart radically from the approach to design that had created the problem. He was presented with the Holcim Foundation Catalyst Award in recognition of his substantial and lasting contribution to the advancement of sustainable development. Rt Hon Simon Upton, Parliamentary Commissioner for the Environment (New Zealand), summarized the Forum by reflecting on the challenges ahead. "With such little time, how do we tackle a problem of such complexity and such scale – and thereby intelligently re-materialize the economy?" he asked.
Workshops on "Re-materializing Construction"
Four concurrent workshops with contributions by 50 experts from all continents explored topics related to materials in the construction industry. The workshops investigated Changing paradigms (materials for a world not yet built); Shifting the flows, pulling the strings (stocks, flows, and their dynamics); From manual to digital and vice versa (digitalization, labor, and construction); and Catch 22 (Material needs versus material impact). Full-day excursions connected to the theme of "Re-materializing Construction" visited sites in the Cairo region and provided a local contextualization of the global discussions. The excursions were curated by AUC and examined Archeological heritage, Water challenges, New vernacular, and Desert cities.
Next generation shares visions of sustainable construction
The tri-annual Forum is an initiative of the Holcim Foundation and also brought together students of its associated universities from around the world. They participated in a Poster Competition that was judged by the Forum attendees. Prizes went to students from Universidad Iberoamericana (IBERO) in Mexico City for "M-E-X – Mercado Embarcadero Xochimilco" and "Living Mexico City" as well as to a team from L'Ecole Supérieure d'Architecture in Morocco for "Insertion of a Water Treatment Cycle". Two projects were highly commended: the work of a post-graduate student from India for "Community Farm Produced Processing and Storage" and a team from the National University of Singapore for "Feeding the City".
Academic publication inspired by Forum
Ruby Press Berlin will release The Material Book in late-2019, a publication inspired by the Forum. The book will evaluate current architectural practices and models, and also introduce materials and methods to maximize the environmental, social, and economic performance of the built environment in the context of "Re-materializing Construction".