Middle East Africa: A focus on people
Announcement of Next Generation prize winners Middle East Africa
In the competition region of Middle East Africa, the jury selected four entries to receive Next Generation prizes. The winning projects from Uganda, Jordan, Sierra Leone, and Iraq have one thing in common: an intrinsic optimism about the future.
Last updated: June 17, 2021 Zurich, Switzerland
The Holcim Awards are the world's most significant competition for sustainable design. The Next Generation category recognizes the visionary concepts and bold ideas of young professionals and students. 
The issue of sustainability in the construction sector is of paramount importance because the construction and maintenance of buildings accounts for 40 percent of both energy and material consumption worldwide. In view of climate change and diminishing resources, new approaches are needed along the entire value chain of the construction industry. Developing and applying these new approaches are what the Holcim Awards promote. Every three years, the competition is held in five world regions and then globally. The prize money totals USD 2 million.
The number of entries shows how intensively specialists from the fields of architecture, engineering, urban planning, materials science, construction technology, and related disciplines deal with sustainability issues: A total of 4,742 projects from 134 countries were submitted. About half of them fully met the competition requirements and were then scrutinized in extensive online jury meetings in the five competition regions. The juries spent a total of over 100 hours sifting through and ranking the winners in the Main and Next Generation categories. In this process, they used the five Target Issues for Sustainable Construction with which the Holcim Foundation assesses sustainability. Summarized as Progress, People, Planet, Prosperity, and Place, the Target Issues outline the critical factors of making the environments we build and inhabit truly viable as the building sector moves toward net-zero emissions and circular material flows.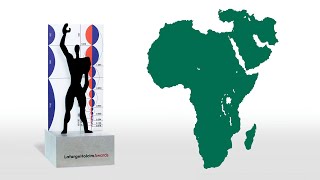 Many high-level Next Generation entries

The Next Generation category seeks visionary concepts and is open to participants up to 30 years of age, whereas the Main category is for projects that are ready for implementation. In the current competition, around half of the entries worldwide were submitted in the Next Generation category. "Due to the pandemic we had to conduct our deliberations remotely," says Mariam Kamara. The principal of atelier masōmī in Niger served as head of the jury for Middle East Africa. The jury included professionals from across the region: Zegeye Cherenet (Assistant Professor, Ethiopian Institute of Architecture, Building Construction & City Development, Ethiopia), Linna Choi (OUALALOU + CHOI, Morocco), Joana Dabaj (CatalyticAction, Lebanon), Mohsen Ech (Research & Development Program Manager for Infrastructure Solutions, Holcim Innovation Center, France), and Heinrich Wolff (Wolff Architects, South Africa). Further jury members from the Holcim Foundation Academic Committee were Marilyne Andersen (Professor of Sustainable Construction Technologies, EPFL Lausanne, Switzerland), Guillaume Habert (Professor of Sustainable Construction, ETH Zurich, Switzerland), and Elli Mosayebi (Professor of Architecture & Structure, Institute for Technology in Architecture, Department of Architecture, ETH Zurich, Switzerland).
Optimistic next generation

The entries to be evaluated by the jury covered a very broad spectrum. Mariam Kamara: "It was a really wonderful window into the youth of today, into what students and young professionals in the Middle East and Africa are currently preoccupied with." It became apparent that optimism currently prevails among the next generation in the region – and this was reflected in the humanistic approach of many of the proposals. "I think it is incredibly important to place the human at the center of architecture," says Mariam Kamara. And people are an important element in all four of the winning projects, which were awarded USD 25,000, USD 20,000, USD 15,000 and USD 10,000 respectively.
In addition to the prize money, each winner receives a personalized trophy featuring the Modulor of the Swiss architect Le Corbusier. The trophy base is made of ECOPact, a low-carbon concrete by Holcim, showcasing materials that enable circular flows and carbon-neutral construction. Holcim is the sponsor of the Holcim Foundation for Sustainable Construction, which conducts the competition. "With their fresh ideas, the Next Generation Awards prize winners keep us at the forefront of sustainable and innovative building solutions", says Jan Jenisch, CEO of Holcim.  
1st prize: Neighborhood upgrade in Uganda

Uganda's capital Kampala is highly fragmented territorially, socially, and economically. The architect Priscilla Namwanje from Kampala intends to bridge gaps in the Muyenga-Namuwongo neighborhood with her project. Thus, between the two very different districts, new connections and a network of public spaces are to be created: bridges, jogging trails, a marketplace, a train station, urban gardens, and cultural and recreational facilities. The district is to be transformed from a gray locality into a green social neighborhood. Walkways will be upgraded and will double as drainage channels to help mitigate flooding. The local community will be involved in the implementation of each step of the project. "Co-creation is a tool to solve the problem of community fragmentation, not just in the spatial sense but also in terms of policy," believes the young architect. The jury is fascinated by the optimistic approach to transform a highly fragmented district into an attractive environment. The project improves the infrastructure, strengthens the social cohesion, and can be easily transferred to other places. "We liked that the project makes a link between an answer that is inherently urban and a highly localized human scale," says Marilyne Andersen: "It shows a deep awareness of how we live and how we want to live."
2nd prize: Cemetery transformation in Jordan

Cemeteries are often located in city suburbs. As the city grows, the burial grounds become more and more integrated into the city, at which point they occupy space that could be used in other ways. This is the case in Amman, where many cemeteries are in poor condition as well. This project – which the jury describes as a solid proposal that revolutionizes the architectural typology of cemeteries – proposes underground cemeteries. This can free land in densely populated neighborhoods to be used as a park or social space. Courtyards allow daylight to reach the lower level, where funerals are held and the graves are located. The project also includes a hospice, a traditional community building, a devotional space, a library, and a community kitchen. Winner Tala Shelbayh, student at the German Jordanien University in Amman, says: "Cemeteries should be transformed into positive spaces and help to enhance social solidarity." She intentionally sought an out-of-the-box solution, and her efforts have been well regarded: "The transition from cemeteries being a place for the dead to them being a place for the living is an important one," says Marilyne Andersen, "especially because the respect for the dead is maintained."
3rd prize: Plastic recycling in Sierra Leone

Plastic litter is a pressing environmental problem in many parts of the world, including Crew Bay, an informal settlement in Freetown. The area is densely populated but hardly developed. And the river that flows through it flushes vast amounts of trash into the sea. The project by Evgenii Varlygin, student at the Technical University of Munich in Germany, envisages a three-stage low-tech intervention. First, the plastic is caught in a net that spans the river. Then it is collected and processed in a plant. It is separated from other collected waste, sorted, ground, heated to 200 °C with solar concentrators, and finally formed into new products, such as plastic building blocks. Jobs are created in all three phases. The proposed factory building incorporates recycled plastic panels and features an observation deck for visitors to view the manufacturing process. "The project uses simple means; the low-tech design pays attention to the climate and culture," says Evgenii Varlygin. The jury considers the project a creative proposal that combines social, economic, and environmental benefits. "It goes beyond just solving the problem," explains Marilyne Anderson: "It brings together job creation, leisure, and many more aspects into the question of plastic recycling."
4th prize: Low-carbon education in Iraq
The Mesopotamian Marshlands of Iraq are a UNESCO World Heritage site. In order to preserve their natural and cultural value, knowledge about them must be passed on. However, educational facilities are lacking. This project aims to build a simple but highly functional school in Basra with classrooms, a library, music room, multifunctional auditoriums, and activity rooms. The principal building material is locally sourced rammed earth. The addition of a small amount of cement increases the stability. The hybrid material is durable and affordable. Parts of the walls are made with woven reeds. This allows light and air to enter the building. "I utilize native building materials, earth and reed, in an innovative manner," says winner Noor Marji, architect from Ammann, Jordan. "There is a renaissance of materials that have different types of qualities, including their low-carbon footprint," confirms Marilyne Andersen. The buildings are characterized by a series of modular units which incorporate arched forms, a traditional element of Iraqi architecture. The jury praises the reinterpretation of Iraqi architecture for being in harmony with the cultural and geographic characteristics of the region.
Holcim Awards Next Generation Middle East Africa
Next Generation prizes
Awards Next Generation 1st prize (USD 25,000)
Connective Infrastructure in Uganda – Inter-scale design for community integration
A multi-scale design project for a neighborhood in Kampala to foster social interaction and economic vitality.
Winner: Priscilla Namwanje, architect, Kampala, Uganda
Awards Next Generation 2nd prize (USD 20,000)
Living Memorial in Jordan – Cemetery reconfiguration for urban greening
A project that attributes new public character to cemeteries in Amman, conserves land, and enhances the value of urban green space.
Winner: Tala Shelbayh, student, German Jordanian University, Amman, Jordan
Awards Next Generation 3rd prize (USD 15,000)
Plastic Extractor in Sierra Leone – Multipurpose recycling facility
A multipurpose facility to collect and recycle plastic litter and enhance social and economic life in an informal settlement in Freetown.
Winner: Evgenii Varlygin, student, Technical University of Munich, Germany
Awards Next Generation 4th prize (USD 10,000)
Earthen Education in Iraq – School reinterpreting vernacular architecture
An educational complex in Basra to revive the architectural and cultural value of Mesopotamian Marshes.
Winner: Noor Marji, architect/student, Amman, Jordan
Main category Awards winners to be announced in November

The worldwide total of 21 Next Generation category winners will be presented virtually, whereas the winning projects and authors in the Main category will be honored at a hybrid event at the international Venice Biennale of Architecture in mid-November 2021. At this event, the 33 regional winners will be celebrated and the winners of the global Holcim Awards Gold, Silver, and Bronze 2021 will be announced.
Virtual presentations of the Next Generation winners, including detailed descriptions of the winning projects from each world region, complete jury reports, and numerous photos and videos, are available at www.holcimfoundation.org/awards. The English-French trade journal "L'Architecture d'Aujourd'hui" has devoted a special issue to the Next Generation winners of the Holcim Awards.
Striving to make the world greener, smarter, and healthier for all

The Holcim Foundation for Sustainable Construction was created in 2003 by Holcim as an independent legal entity to raise awareness of the important role that architecture, engineering, urban planning, and the building industry have in achieving a more sustainable future. Holcim is the global leader in building solutions across more than 70 markets. The Group is reinventing how the world builds to make it greener, smarter, and healthier for all.